Complete Your Master's With a Fast Track to CPA Designation
---
Enjoy accelerated opportunities to achieve your professional ambitions with an MBA curriculum and a fast track to CPA accreditation — All in one program


---
2 Paid Co-op Terms
Paid co-op work terms are a valuable component of the MMPA program, providing students with real-world work experience and opportunities for networking with prospective employers. Students earn approximately $15,000 through their co-op placement with leading firms
91% of Grads Find Full-time Employment
within 6 months of graduation. Get support even after graduation through our placement officers
MBA Curriculum
Learn from world-class faculty at the University of Toronto
2,000+ Alumni Network
Join our well-connected and experienced alumni network
AI and Data Analytics Integration
An integrated curriculum with research opportunities at the BIGDataAIHUB
Accredited CPA Pathway
MMPA is the only master's degree that prepares students for all four CPA elective modules, making it the most efficient pathway for obtaining a master's degree and a CPA designation
---
The MMPA program emphasizes a foundation in accounting principles and is engineered around big data analytics, AI and machine learning, and case-oriented reasoning capabilities to prepare you for leadership careers of the future.
As an MMPA student, you gain access to top accounting courses and professors, getting you on the path to CPA designation, regardless of your educational background.
CPA requirements and becoming a CPA with MMPA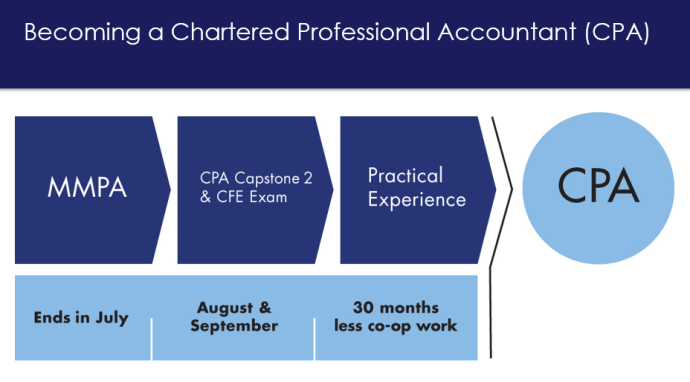 MMPA is the most efficient pathway for obtaining a master's degree and a CPA designation 

By opening the door to rewarding career opportunities, MMPA helps you unlock a bold new future.
---
The MMPA program is highly regarded by leading accounting firms, financial institutions and other prominent businesses, with many of our students recruited even before they graduate. Receive preparation and training from your dedicated, on-site placement managers to help with your resume and interview preparation.
Sophia Chimenti | MMPA Class 2021
---
Undergraduate Honours Bachelor of Science
2-Year MMPA Program
Lyra Lyu | MMPA Class 2021
---
Undergraduate Rotman Commerce
1-Year MMPA Program
Julian Gentles | MMPA Class 2021
---
Undergraduate in Economics, Criminology & Socio-Legal Studies
2-Year MMPA Program
Download a Program Brochure and Learn More
Each brochure provides a high-level overview of the MMPA program, admissions, co-op, and vibrant student body.
1-YEAR PROGRAM
For students with accounting undergraduate degrees from a Canadian university
2-YEAR PROGRAM
For both domestic and international students with any undergraduate degree
---