Each year, the Master of Management & Professional Accounting (MMPA) program hosts a one-day MMPA conference on topics that deal with the forces that are shaping our changing landscape in the accounting profession. Given that we are part of the Institute for Management & Innovation (IMI), the MMPA conferences focus on innovations (technological and otherwise) and opportunities afforded by ongoing change. We explore how accountants apply their human skills/values and professional competencies to continually create value.
The MMPA program, which provides a unique combination of the MBA curriculum combined with the CPA pathway, hosts the conference series as part of the student curriculum, inviting academics, members of the accounting profession and practitioners from different disciplines to share their experiences and research to spark new ideas and ways of thinking. We are thankful for our partnerships with CPA Canada and the IMI BIGDataAIHUB (which acts as a sandbox, allowing stakeholders to gather, share idea and learn about big data and artificial intelligence).
MMPA 2019 Conference
On November 15, 2019, IMI and the MMPA program hosted a conference about the impact of big data, AI, and machine learning on accounting, featuring industry leaders, computer science experts, and accounting professionals.
The conference centred around three pillars — technology, governance, and social innovation— each addressing different facets of AI and big data. The publication of the full proceedings from this conference, containing each of the speaker's talks and new material on the impact of COVID-19, is now available.
Click here to download the full proceedings.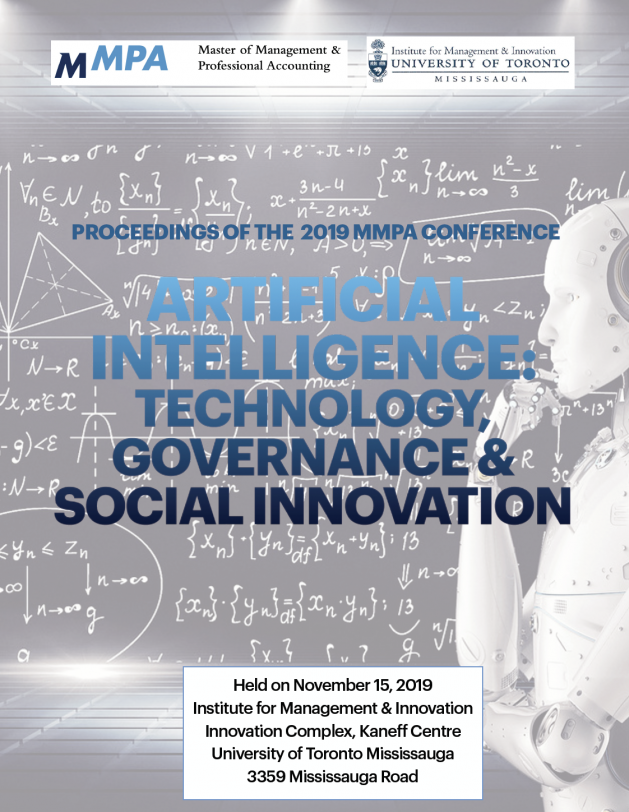 The conference report was featured in this article by CPA Canada, "How to develop a human-centred and responsible approach to AI." Read it here.
Conference Details
Artificial intelligence (AI) is changing our world rapidly and disrupting many industries such as health care, transportation, and financial services. AI and machine learning are also used to tackle some of the world's most challenging social problems, including environmental conservation and climate change. It is predicted that AI technology will dominate future economic growth and industrial innovations. The advancement of AI technology also creates challenges in privacy protection and data security. There are concerns that artificial super-intelligence may replace humans in many industries and that AI technology, if falling into the wrong hands, could be used for purposes that are not acceptable.
This conference provides an open forum to demystify AI technology and to explore issues and challenges that corporations, governments, and the accounting profession face when adapting to this technology. We have invited a group of best researchers in AI and industry leaders to speak at the conference, including Research Director of the Vector Institute, Advisor to the Governor of the Bank of Canada on Digitization, PwC's Global Leader on AI and Data & Analytics, and Director and founder of the Montreal AI Ethics Institute, among others. These experts will form three panels: AI Technology, AI Governance, and AI and Social Innovation. The expert panels will explore how AI technology may transform our world from different perspectives and share their vision on how the accounting profession can adapt to AI technology.
 

The advancement of AI technology also creates challenges in privacy protection and data security.
Schedule:
PDF Version of schedule and Speaker Bios
Download All Conference Presentations HERE
8:00 Breakfast
8:45 Introductory Remarks
Professor Irene Wiecek, Director, MMPA
Professor Amrita Daniere, Vice-Principal, Academic and Dean, University of Toronto, Mississauga
Professor Soo Min Toh, Director, IMI
Davinder Valeri, Director of Strategy, Risk and Performance, CPA Canada
Professor Yue Li
Technology Pillar 
Moderator: Professor Irene Wiecek 
9:00 Keynote Speech: Controlling the Black Box: Learning Manipulable and Fair Representations (Presentation - PDF)
Professor Richard Zemel, Research Director, Vector Institute, Professor of Computer Science, University of Toronto, Senior Fellow, Canadian Institute for Advanced Research 
10:00 -10:15 Q&A
10:15 AI and Industrial Innovations. (Presentation - PDF)
Professor Fakhri Karray, University Research Chair, Director, Centre for Pattern Analysis and Machine Intelligence, University of Waterloo.
11:00 to 11:15 Coffee Break
Social Media Break: #MMPACONF
11:15 Machine + MD: Role of AI in Computer Integrated Interventional Medicine. (Presentation - PDF)
Professor Parvin Mousavi, Professor and Director, Medical Informatics Laboratory, School of Computing, Queen's University
11:45 Panel discussion on how AI Technology may transform our world
12:00 to 1:00 Lunch
Governance Pillar 
Moderator: Professor Yue Li 
1:00  AI and Digitalizing the Financial System (Presentation - PDF)
Dr. Eric Santor, Advisor to the Governor of the Bank of Canada on Digitalization
1:30 Risks of AI and Responsible AI (Presentation - PDF)
Dr. Anand Rao, Global & US Artificial Intelligence and US Data & Analytics Leader, PwC US
2:00  AI and the Futre Accounting Profession 
Professor Miklos Vasarhelyi, KPMG Distinguished Professor, Director of Rutgers Accounting Research Center and Continuous Auditing & Reporting Lab, Rutgers Business School, Rutgers University
2:30  Panel discussion on the impact of AI on accounting and financial industries 
3:00    Coffee Break (15 mins. #mmpaconf)
 
Social Innovation Pillar
Moderator: Professor Soo Min Toh
3:15  Machine Learning and Social Innovation
Professor Graham Taylor, Canada Research Chair in Machine Learning, Canada CIFAR AI Chair, School of Engineering, University of Guelph and Vector Institute. 
3:45 Q&A
4:00 Concluding remarks by Professor Irene Wiecek